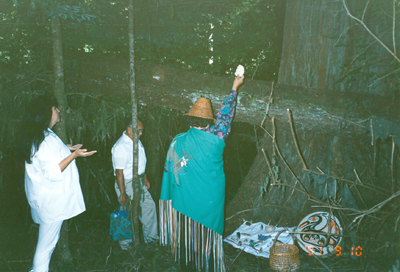 In 1991 when the Tribe felled the 600 year old cedar tree from which they intended to carve a canoe, they held a blessing ceremony.
Shown here are Henriette Cooper, Bosco and Elaine Grinnell blessing the tree.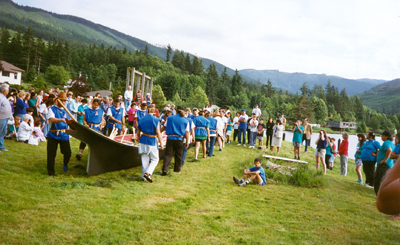 In 1993 just before the crew left for Bella Bella, the Tribe named and blessed the Laxaynem on the lawn behind the original community center in Blyn.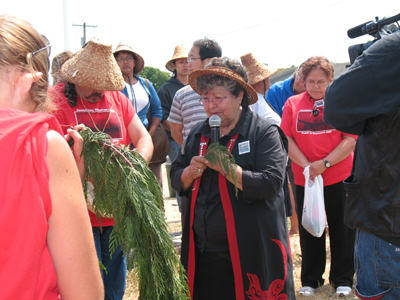 In 2009, the Tribe purchased a second canoe which it named the E'ow-itsa, meaning Little Sister (to the Laxaynem). Here, Elaine Grinnell speaks as a cedar wreath is placed on her bow.


Before becoming a canoe carver the specialist would dream, talk and have a guarding spirit song for the tree. A canoe carver, when searching for a tree, might listen for the "chop-chop" sound of a supernatural assistant working on his canoe. Among the British Columbia Salish people, the woodpecker, especially the northern pileated redhead, was the most common dream spirit of canoe builders.



The ancient ways of felling a tree were by chiseling or controlled burning. Those who felled the trees possessed the power in praying to and telling the tree which way to fall so it would not break. A prayer and cedar bough cleansing of the tree were performed before it was moved and before the carving began.

Today, the Tribe gathers before each Canoe journey to bless the canoe and wish the crew a safe and productive journey.

Canoe Journeys promote drug and alcohol-free lifestyle, but they are not only for those with addiction problems. All who participate say that the experience changes them in some way; makes them look at the world in a new and different manner. It is a unique experience rich in history, tradition and the excitement of traveling on the open water. Click here to read the 10 Rules of the Canoe.