Cedar canoes are the traditional mode of transportation for Coastal Native American people. For thousands of years, canoes have played a key role in our survival.

In 1989 during the "Paddle to Seattle," the crew of a canoe from the Heiltsuk Nation in Bella Bella, British Columbia challenged all nations to travel to their village in1993 to be part of the Qutawas Festival. 28 canoes, including the Jamestown S'Klallam's Laxayn?m, took part.

Today, over 100 canoes representing as many as 90 U.S. Tribes and Canadian First Nations, and upwards of 12,000 people participate in the annual Tribal Canoe Journey, pulling canoes, operating support boats, acting as ground crew, singing, dancing and sharing our traditions and cultures.

Dozens of Jamestown citizens, descendants, staff and friends have participated in Tribal Canoe Journeys over the last 2 decades. Our Skippers, who sit in the stern and steer the canoe with a large paddle that acts like a rudder., have been, to date: Paul Bowlby, Jeff Monson, Wade Lawson, Greg Prince, Bernie Erhorn, Marlin Holden and Heather Johnson-Jock.

When the canoes arrive at their destination, the singing, dancing and storytelling begins. This is called protocol. Starting with the Tribe which came from the farthest point, each Tribe performs traditional songs and dances, and thanks the host tribe with gifts and stories.

Canoes pass by the Point No Point Lighthouse—near the site where the S'Klallams signed the 1855 Treaty with the United States government.

Tribal Canoe Journeys


1989
Paddle to Seattle
1993
Bella Bella, B.C.
1994-'96
Full Circle Youth Paddles, Puget Sound, WA
1997
Quileute, LaPush, WA
1998
Puyallup, WA
2000
Songhees, B.C. and Pendleton, OR
2001
Squamish, B.C.
2002
Quinault, Taholah, WA
2003
Tulalip, WA
2004
Chemainus, B.C.
2005
Lower Elwha, Port Angeles, WA
2006
Muckleshoot, Auburn, WA
2007
Lummi, WA
2008
Cowichan, B.C.
2009
Suquamish, WA
2010
Neah Bay, WA (Makah)
2011
Swinomish

· The Jamestown S'Klallam Canoe Family
participated in these journeys.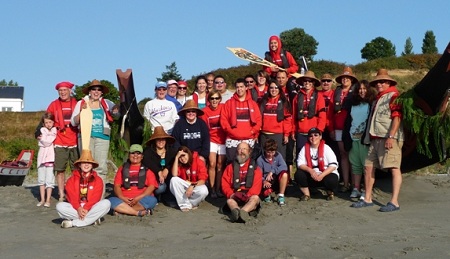 This was the 2009 Jamestown Canoe Family the morning they took off from Port Townsend headed for Port Gamble.

(Irv Mortensen photo)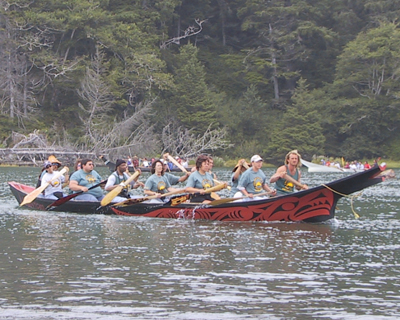 This was the Jamestown Canoe Crew that paddled to Taholah in Quinault Territory in 2002.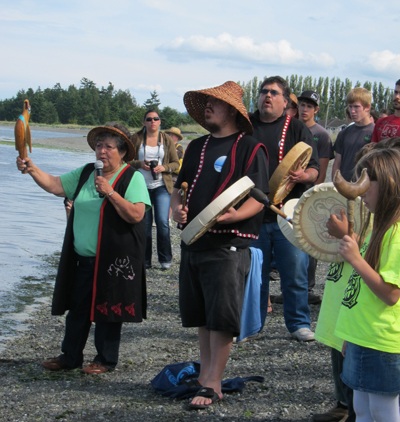 In 2011, Elaine Grinnell granted permission for many of the canoes to come ashore, with help from Eric Adams and singing and drumming by Jeff Monson and the Tribal children.





The Jamestown Canoe Family consists of the canoe crew (skipper and pullers), ground crew (who travel on land from stop to stop, set up camp and prepare meals for the crew) and the many supporters of the Canoe Journey who work year round to make gifts, host the Jamestown and Port Townsend landings, and offer their support in many other ways. Click here to see some of the people who have participated in past journeys.

On the Water: Pullers generally launch by 6 a.m. and travel up to 30 miles in 6-8 hours to get to their next stop. While our ancestors could pick and choose when they traveled, the Canoe Journey schedule requires that crews be at a certain place on a certain day. July is a good time to travel, so if the weather is reasonable, they go by water. But if the weather is dangerous for small craft, skippers often opt to trailer the canoe to the next stop and review the conditions during their nightly skippers' meetings at each stop.

Welcoming and Hosting: At Jamestown and Port Townsend, the Jamestown Tribe welcomes pullers from other Tribes, giving them permission to come ashore and providing them with meals, a place to camp and the opportunity to share songs and stories before starting off again the next morning. This protocol is based on the ancient tradition of hosting visitors who traveled the waters throughout the Pacific Northwest.