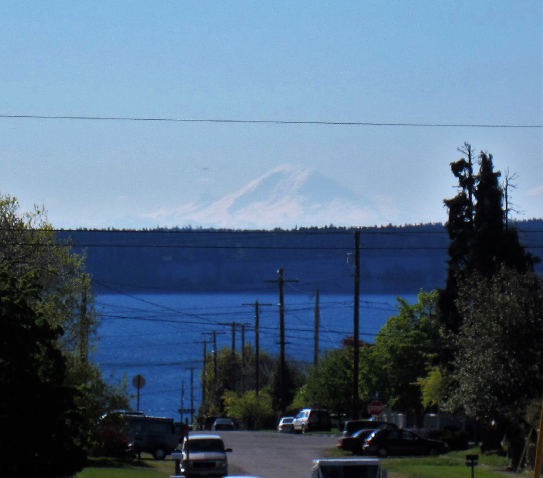 Snow-covered Mount Rainier to the southeast in April 2019.
Mt. Baker from Four Points
Photo by Wendy Feltham
This high spot offers an opportunity to look northeast to Mount Baker (swáʔləx), southeast to Mount Rainier (təqwuʔmaʔ), southwest to the Olympic Mountains (sxwƛ'ayəm'áɬ), and northwest to Mount Constitution on Orcas Island and Vancouver Island's Saanich Peninsula, home to the Songhees, Esquimalt, Saanich and Cowichan people in Canada (tɬnáʔəč).
From a spot this high, one can see incoming weather patterns and forest fires. Mountains provided valuable hunting and gathering resources. S'Klallams made seasonal visits, traveling by canoe and navigating trail systems that crisscrossed the Peninsula and beyond, in preparation for winters spent at their longhouses. Winters were reserved for storytelling, weaving, toolmaking and other indoor activities, which are being revitalized by many Tribal citizens of all three Klallam/S'Klallam Tribes, including Jamestown Tribal citizens storyteller Elaine Grinnell, weaver Cathy MacGregor, chef Lisa Barrell, drum maker Jeremy Monson, artist Timothy O'Connell, and carver Dusty Humphries.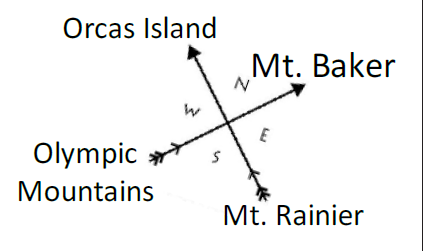 Looking toward the sign, this is the relative
direction of the peaks you will see on a clear day.