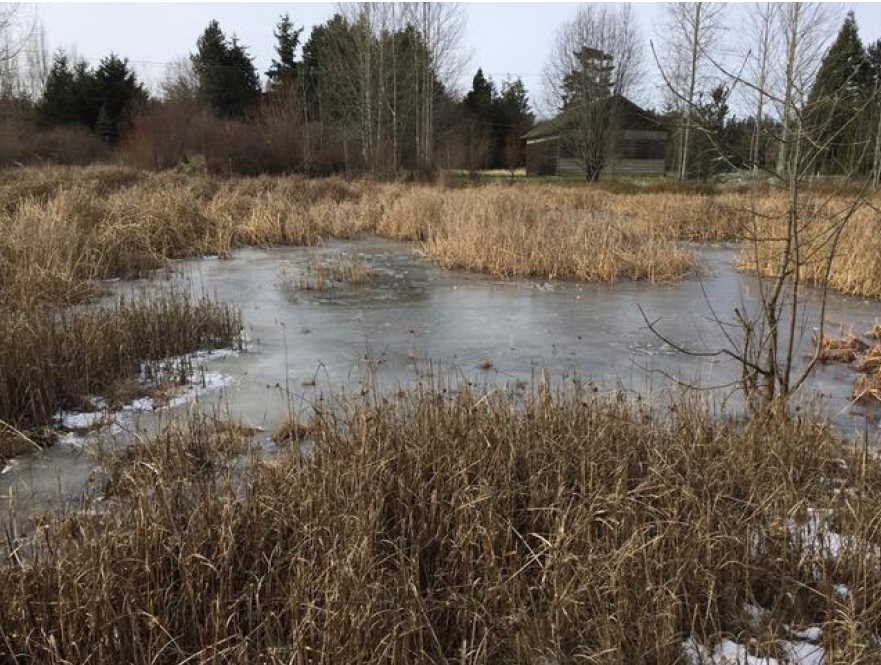 Froggy Bottoms pond. Dixie Llewellin photo
Prior to development, qatáy Valley (also known as Happy Valley) was a series of ponds and wetlands that connected North Beach to Port Townsend Bay. Seasonal stormwater was rerouted to enable development of roads, farmland and homesteads. This low area was used as a City repository for road scrapings, but often flooded. The City of Port Townsend needed to remediate the low area and worked with a restoration biologist to determine what species of native trees, shrubs and herbaceous plants to transplant as the City worked to better manage storm water flow and drainage
Froggy Bottoms is a remediated wetland and stormwater pond, planted to establish an abundance of native plants and animals that normally live in low-lying and upland areas. It has been the site of several botanical research projects, including the study of golden paintbrush (Castilleja levisecta) and the genetic distribution of blue camas by indigenous people.
The larger valley was a mix of drier prairie areas where camas and berries thrived, and wetter areas like this one that attracted birds, waterfowl and many other creatures who live in the watery environment.
Today, the area contains many plants that S'Klallam people would have recognized. In the dry northeast corner of this restoration, a Garry Oak (Quercus garryana) grove was successfully established. S'Klallam people ate the acorns of this species, once plentiful across the prairies of the Salish Sea region. In fact, the village name k?icás?i refers to Sherman Spit (Walan Point) on Indian Island, and relates to the oak trees that are unique to that site. Charles Menzies, the naturalist for the Vancouver Expedition identified the oaks as Quercus Garryana, and identified them in Oak Bay just south of the study area.

Above, the view of Happy Valley, looking toward North Beach, 1900.
From the collection of the Jefferson County Historical Society [2005.753.13]