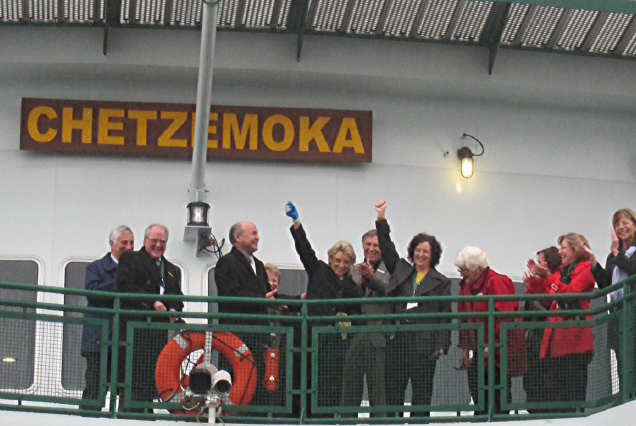 Washington Governor Christine Gregoire breaks a bottle of champagne on the bow to inaugurate MV Chetzemoka. With her, from left, are Captain Mark Haupt; Assistant Secretary of Transportation David Moseley; Mike Gregoire; Congressman Jay Inslee; Transportation Secretary Paula Hammond, and local State representatives.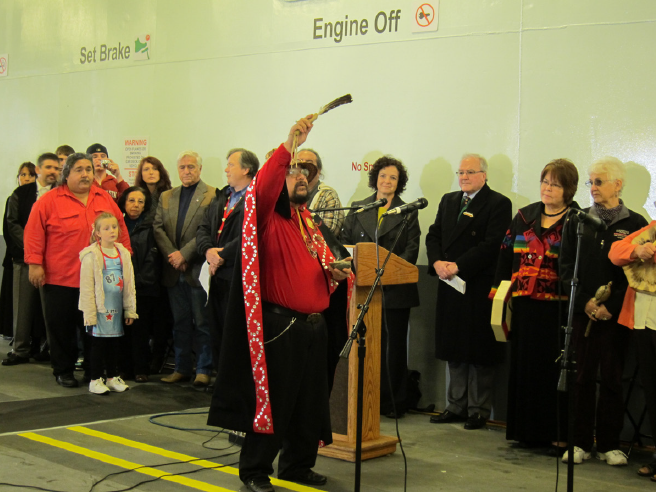 Jamestown S'Klallam Tribal citizen Patrick Adams blesses the new vessel, while to his left, descendants of cicm?hán including Kurt Grinnell, Vince Prince and family, Les Prince and Jack Grinnell, as well as Department of Transportation dignitaries, and Tribal Elders Vickie Carroll and Janet Duncan look on.
In 1927, the first MV Chetzemoka was built in Alameda, CA. In 2010, MV Chetzemoka was the name selected by Washington State Ferries for its newest Kwa-di Tabil-class ferry. Two years later, it was relocated to the Vashon Island run, but occasionally returns to service in Port Townsend.
It is fitting that ferries have been named for Pacific Northwest Native American Tribal leaders, as travel by water was the norm for the Tribes of the Salish Sea.
From the ferry overlook, you are looking across at Admiralty Inlet, a tiny part of the "Usual and Accustomed" land and adjacent fresh and salt waterways used by the S'Klallam people, who retained their rights to hunt, fish and gather there when they signed the Treaty of 1855. Those rights were systematically repressed by the State of Washington until the Boldt Decision of 1974, which finally affirmed Tribes' rights to fish. United States v. Washington, 384 F. Supp. 312 (W.D. Wash. 1974), aff'd, 520 F.2d 676 (9th Cir. 1975), commonly known as the Boldt Decision (from the name of the trial court judge, George Hugo Boldt), was a 1974 case heard in the United States District Court for the Western District of Washington and the United States Court of Appeals for the Ninth Circuit. It reaffirmed the reserved right of American Indian tribes in the State of Washington to act alongside the state as co-managers of salmon and other fish, and to continue harvesting in accordance with the various treaties that the United States had signed with the tribes. The tribes of Washington had ceded their land to the United States but had reserved the right to fish as they had always done, including fishing at their traditional locations that were off the designated reservations.
---
"If the old Chief, who is buried a short distance from here, were standing here in my shoes, he would raise his arms and say to you, háʔnəŋ cən, háʔnəŋ cən - thank you, thank you."


- Les Prince, great-great grandson of cicm?hán, at the inauguration of the MV Chetzemoka, November 14, 2010.