Before the shoreline was altered to create the marina, Point Hudson was a popular clamming beach for S'Klallams and a landing point for tribes from locations across the Olympic Peninsula.
Change began as soon as settlers arrived, but grew harsher after čičməhán (Cheech-ma-han) and many other S'Klallam sub-chiefs signed the Treaty of Point No Point in 1855. It was not ratified by Congress until 1859, and through the 1860s, the Natives waited for financial compensation from the government, but they were not paid. In 1867, the City of Port Townsend passed an ordinance prohibiting any Indian housing, tents, mats or fires in the downtown area, and in 1871, their village was destroyed by fire, by order of the Superintendent of Indian Affairs.
In the 1890s, Makah and other Tribes used Point Hudson as a camping site on their way to and from the hops fields near Puyallup, where they were seasonally employed as hops harvesters.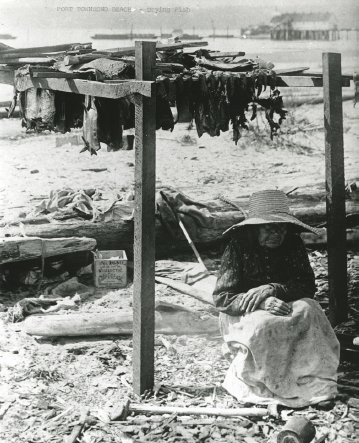 "Grandma Newman" drying salmon at Point Hudson. [2005.78.84]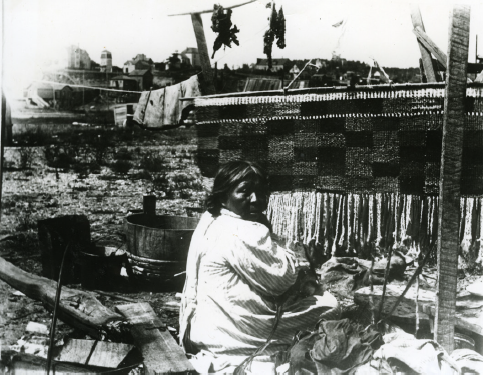 An Indian woman with a loom set up and weaving. In the background is the Marine Hospital, so this photo is taken at Point Hudson after 1896. [2005.78.62]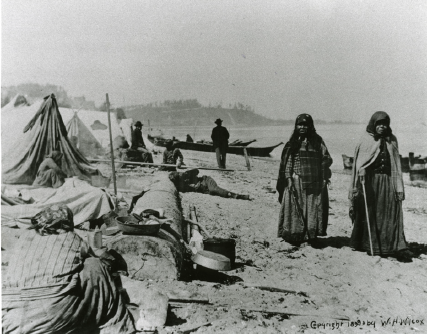 Indian camp on beach at Point Hudson, 1899. [2005.78.25]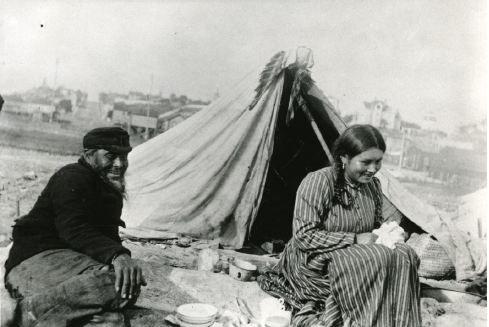 Group of Indians camped on the beach at Point Hudson, Fort Worden in the background. [2005.78.17]