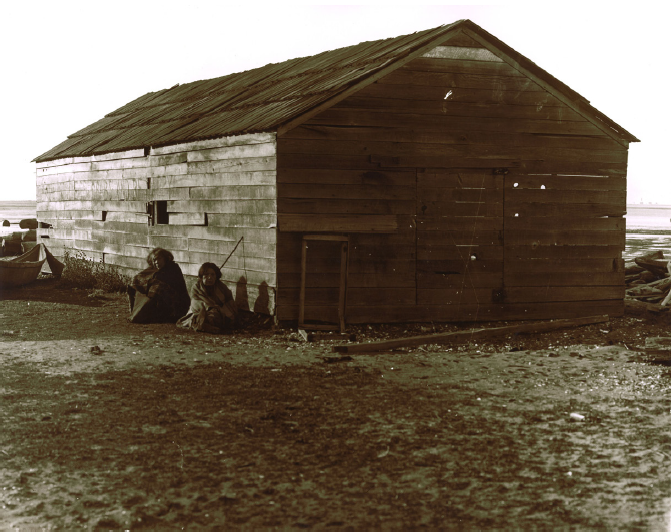 A structure in downtown Port Townsend, near what is now Memorial Field.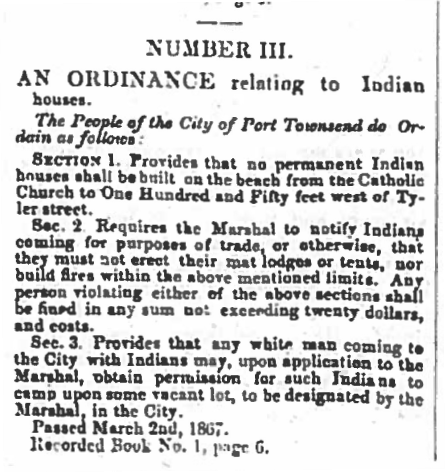 An Ordinance relating to Indian Houses The people of the city of Port Townsend do ordain as follows: Section 1: Provides that no permanent Indian houses shall be built on the beach from the Catholic Church (Madison Street) to one hundred and fifty feet west of Tyler Street. Sec. 2: Requires the Marshal to notify Indians coming for purposes of trade, or otherwise, that they must not erect their mat lodges or tents, nor build fires within the above mentioned limits. Any person violating either of the above sections shall be fined in any sum not exceeding twenty dollars, and costs. Sec. 3: Provides that any white man coming to the City with Indians may, upon application to the Marshal, obtain permission for such Indians to camp upon some vacant lot, to be designated by the Marshal, in the city. Passed March 2, 1867. Recorded Book No. 1, page 6
The village of qatáy once sat near the bluff at what is now the corner of Monroe and Water Streets. It was the principal village of S'Klallam people at the time of the treaty signing, and home to their Chief, čičməhán (Cheech-ma-han).
James Swan's 1859 census showed "300 whites and 200 Klallams" living in Port Townsend. qatáy village was burned on August 23, 1871 by order of the federal government, prompted by complaints from the settlers. Destruction of the village of qatáy forced many of the S'Klallam to move to the Skokomish Reservation, Port Gamble, Port Discovery, or to join family in Dungeness (stətíɬəm), who would purchase land at Jamestown in 1874. Others, including cicm?hán and his family, moved across Port Townsend Bay to Indian Island, where villages had been located for hundreds of years.
Many S'Klallam adjusted to non-Indian communities, working at local mills, on farms, fishing and providing water transportation to settlers on land and waters that had always been Native homeland.
In 2018, a county project at Memorial Field uncovered remnants of that village. Sediments were sifted for artifacts and other evidence of the area's historical residents. The Weekly Argus, 11 May 1871, page 4, column 3 Number III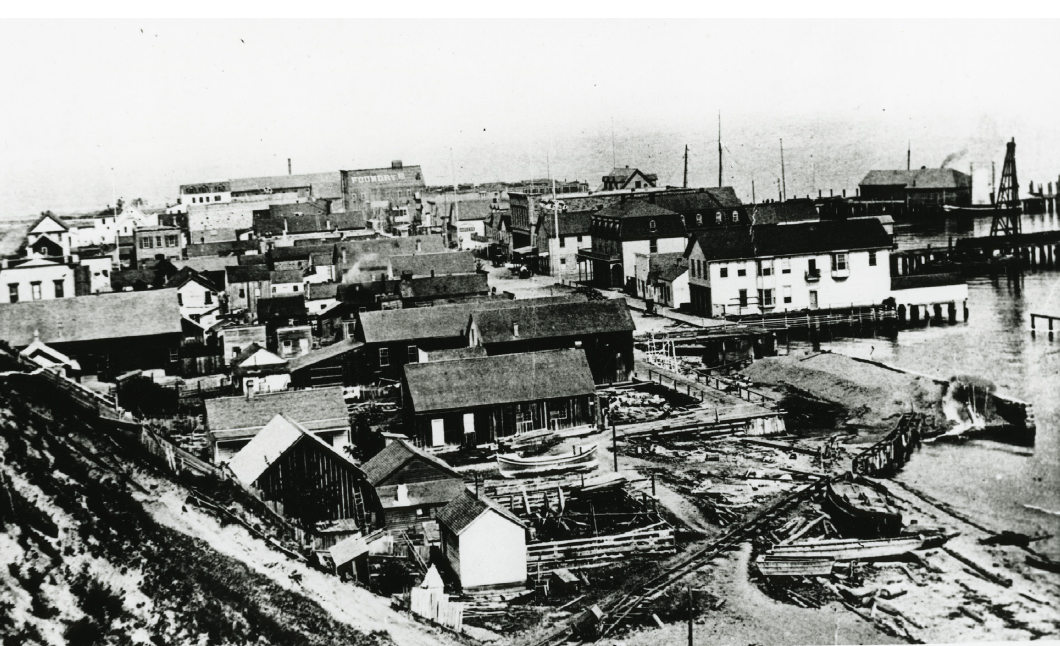 In this photo, taken before 1890, you can see how built up the downtown had become, less than 19 years after the S'Klallam village had been destroyed. This view is looking east, with the railroad line construction in the foreground, running to the docks.
From the collection of the Jefferson County Historical Society [2004.117.596]
Superintendent Thomas J. McKinney (Olympia, WA) to Indian Agent Eels (Port Townsend, WA), August 10, 1871
Received complaints having been made to me of the deplorable condition of the Indians under the Duke of York residing at Port Townsend. You are hereby ordered to proceed to that place taking with you the necessary force and remove them to the Reservation. It would also be advisable to tear down the old huts occupied by them, for if they are permitted to stand, it will be a temptation for them to return…In conclusion, I would urge great haste in removing these Indians as they are furnishing the means for the support of idle vagabonds who sell them whiskey and thereby bring disrepute on the Indian Service. I would also urge the demolition of their houses. The best way for doing the same, I will leave to your judgment.
Eels to McKinney, August 30, 1871
In compliance with your order of the 10th...proceeded to Port Townsend on the 22nd of August. I left here on the morning of that day with three of the employees and two Indians, one of whom…volunteered to go in order to use his influence to persuade the Indians there to come cheerfully. We arrived at Port Townsend at noon on the 23rd and immediately in connection with the City authorities, demolished the houses, and the next day burned the rubbish, saving the best of the lumber. The Duke of York had already started with what Indians he could influence and those who were left were very obstinate about leaving, or were so very poor that they had no canoes to move in. In carrying out the spirit of your order I was forced to break the letter of it and employ some conveyance for the poor and do so by chartering a small sloop on which I put a load of things and some Indians. One man and his wife ran away to Port Discovery, leaving his mother, canoe and most of his things which I brought with me. Another man and his wife Billy and Annie were secreted by some white people just as we were starting, and I brought their things along. Also, Annie is the washwoman of the town and many good citizens were anxious she should remain…