Looking south, view Kilisut Harbor and Indian Island (now Naval Magazine Indian Island). Archeological evidence shows that Indian Island was an important location to the ancestors of the SíKlallam and Chimacum people for over 1,500 years. For many centuries, sea level was as much as 7 meters lower than today, making the harbor a fertile wetland.
In 1870,čičməhán (Cheech-ma-han) met with a Territorial delegate, asking that the Tribe be given Indian Island as the SíKlallam reservation, but that request was denied.
čičməhán and his family, including his two sons Charlie Swan York and Prince of Wales, moved to the village at the northeast corner of Indian Island called šťʔnəkw, after being forcibly removed to the S'Klallam Indian Agency (the Skokomish Reservation in Hood Canal) from Port Townsend in 1871.
Real estate records show that in 1887, a parcel of land was sold by Catherine McCurdy to pačwŪɬəs (Prince of Wales) and Charlie York, the sons of čičməhán, and to James Webster (Chimacum Jim) and his wife Louise, whose descendants are citizens of todayís Port Gamble SíKlallam Tribe. In 1888, pačwŪɬəs purchased additional land at šťʔnəkw from Ms. McCurdy and maintained ownership and residency there until 1941.
Indian-owned lands on Ihudsonbeachndian Island were lost when the federal government took it through the Eminent Domain process in 1939-41, to convert the island into a Naval base.
Several other SíKlallam families lived across the bay in Port Hadlock near the Old Alcohol Plant (an area called ʔənəƛŠnnəxw or Patseyís hole). Canoe travel between the two places was common. Many SíKlallam and their descendants still live in the Irondale/Port Hadlock area.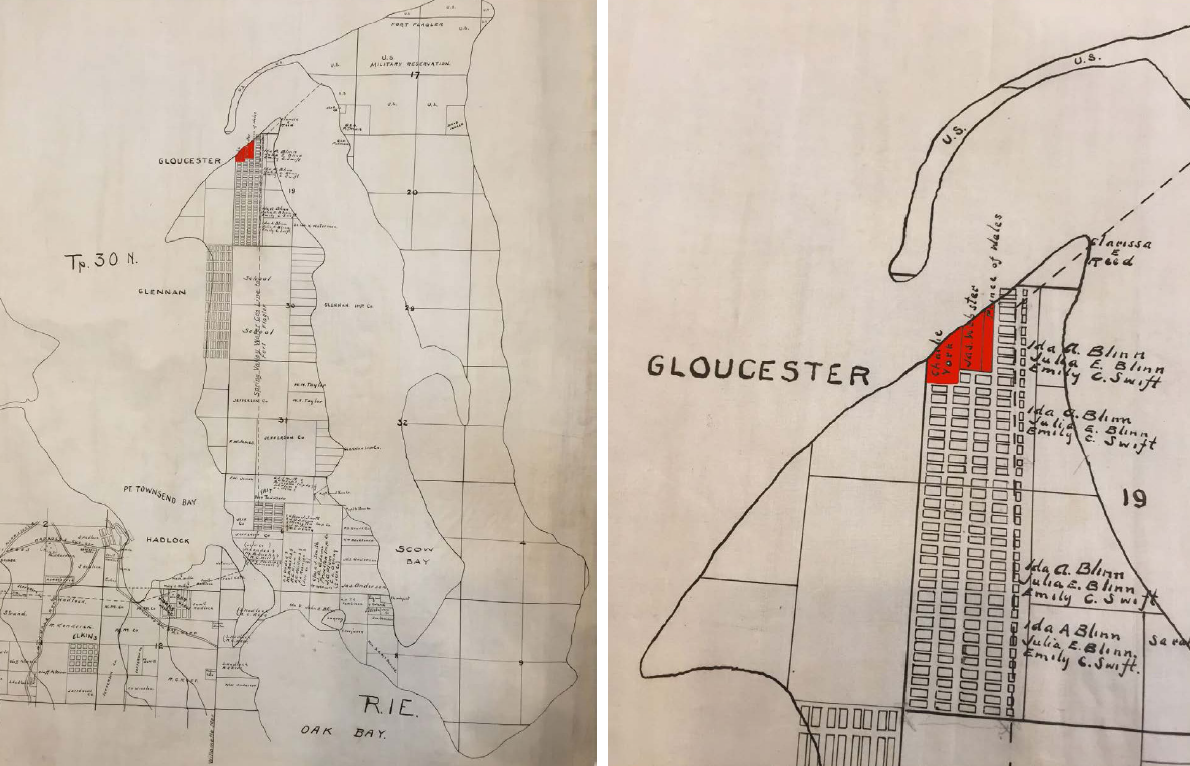 1904 City of Port Townsend plat map of Indian Island showing S'Klallam-owned lands at šťʔnəkw (depicted in red) on the Island, and a close-up of the SíKlallam-owned parcels. From the collections of the Jefferson County Historical Society.