This grave, in Laurel Grove Cemetery, is the resting place of čičməhán (Cheech-ma-han, "Chetzemoka," Duke of York," 1808-1888). It is also burial site of his first wife, siʔám'itsə (See-hem'itza, "Queen Victoria"), and a grandson.
On June 21, 1888, Chetzemoka's two sons, the Prince of Wales and Charlie Swan York crossed the bay from Indian Island (where the family lived) to announce their father's death.
The Port Townsend Freemasons have owned Laurel Grove Cemetery since 1871. In June of 1888 the Lodge approved setting aside a lot in Block 114 as burial site for the "Duke of York." The town fathers held a fund drive "to give the old fellow a decent white man's burial." The Argus also established a fund for "a suitable monument…in recognition of the debt of gratitude which all pioneers and their successors owe to his memory."
The Seattle Weekly Intelligencer reported that "no Indian in Washington Territory, and very likely none in the United States, ever received so flattering a funeral as did the Duke of York…" His cortege was escorted from the courthouse (at 226 Adams Street - the Fowler Building) to the cemetery by port of entry guards and "22 carriages, filled with our oldest and wealthiest citizens following the hearse." The service was read by the vicar of St. Paul's Episcopal Church, and before his body was interred, a salute was fired by the guards.
Though not as famous as čičməhán, many other S'Klallam ancestors are buried here, and in most all of the cemeteries across the North Olympic Peninsula.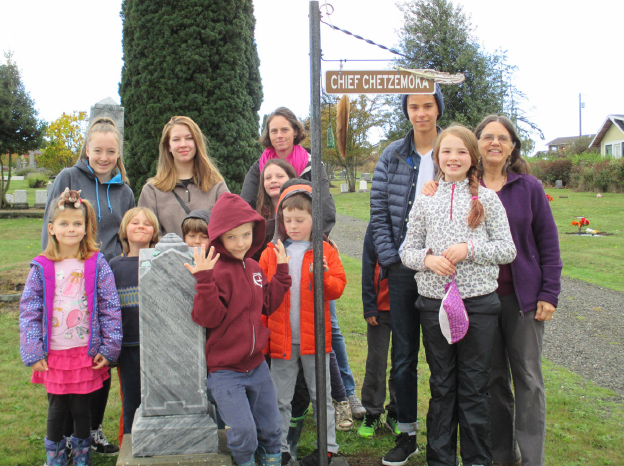 Children from the nearby Quimper Unitarian Universalist Fellowship visited čičməhán's grave with their religious education teachers.
QUUF photo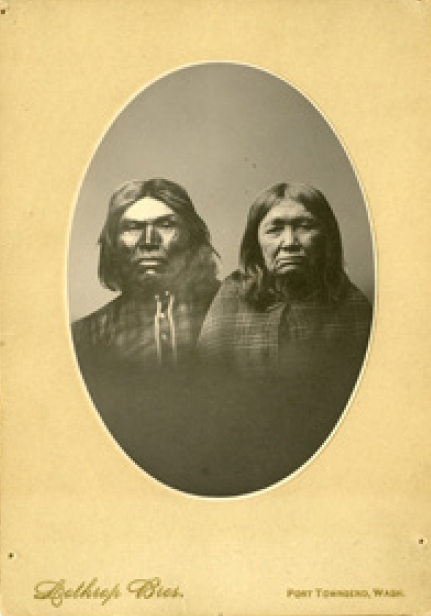 čičməhán and siʔám'itsə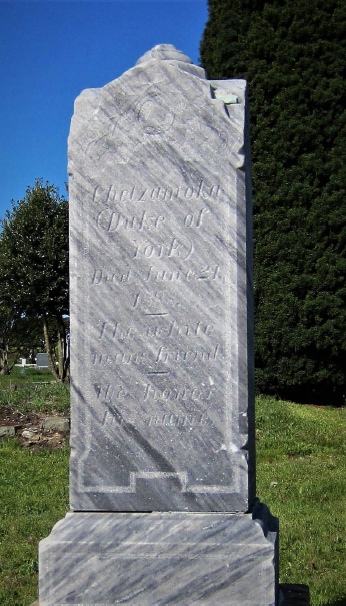 Chetzemoka (Duke of York)
June 21, 1888
The white man's friend;
we honor his name.