Outside the Northwest Maritime Center you will see the 26í totem pole carved by Dale Faulstich, Andy Pitts, Tyler Faulstich, and Tribal citizen Timothy OíConnell. You will also see the Coast Salish Canoe Culture sign, and a traditional canoe hanging in The Chandlery.

The totem pole pays homage to millennia of finely crafted wooden boats and the artisans who built them. It features, starting at the top, the Supernatural Carpenter, the Spirit of the Cedar Tree, čičməhán with his arms in the welcoming posture, standing on Sentinel Rock.

Northwest Maritime Center
Totem pole, canoe and interpretive sign -
gifts of the Jamestown SíKlallam Tribe to
celebrate a shared love of the sea.

The Jamestown SíKlallam Tribe, like the Northwest Maritime Center, is a contemporary organization with a tremendous appreciation of our seafaring history and respect for those who have preserved and shared their knowledge throughout the centuries.
The sea is all around us on the Olympic Peninsula: the sound of the tides and seabirds; the salty aroma in the air; the edible abundance that has sustained us for millennia; the navigable waterways that allowed us to move freely among and between our villages and our neighbors. For the SíKlallam people, the sea is a major character; the backdrop of our lives. And we know that we share that deep sentiment with those who have devoted themselves to creating and sustaining the Northwest Maritime Center
It is with that sentiment of shared vision that the Tribe and the Center agreed that a totem pole and a canoe carved of Western Red Cedar, and an interpretive sign about Coast Salish Canoe Culture were appropriate symbols of our shared interests and ongoing partnership in the 21st century.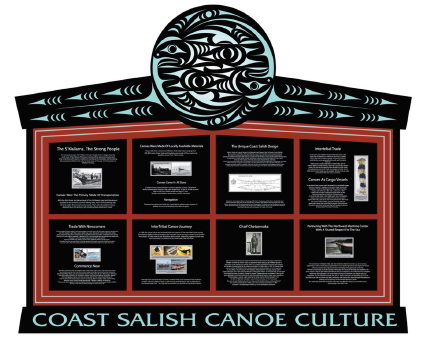 A representation of the Coast Salish Canoe Culture interpretive sign.