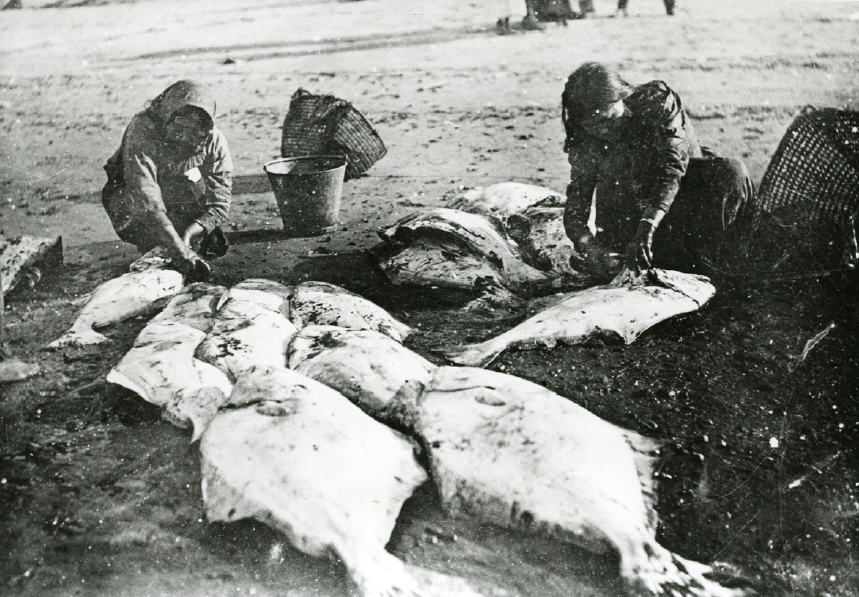 Women cleaning halibut
From the collections of the Jefferson County Historical Society [2005.78.74] Below, a map showing the many S'Klallam villages along the Strait of Juan de Fuca.
North Beach was an important camp location for the S'Klallam and other Tribes of the Salish Sea. Coming from the west, Natives beached their canoes off the Strait of Juan de Fuca at this location to avoid the treacherous rip tides east of here. In rougher weather, canoes were portaged south through the qatáy Valley (along what is now San Juan Avenue) to qatáy/Kah Tai Lagoon, where they could launch into Port Townsend Bay. It was also here that hundreds of S'Klallam gathered during the "Indian Scare," to determine whether to wage war on the local settlers, and were dissuaded by their Chief, čičməhán.
The adjacent area - currently known as Chinese Gardens –now a large lagoon to the east of this park, was the northernmost section of the series of ponds and wetlands that led through the valley. In the days before much of the area's stormwater was redirected to this lagoon, it was a moist, fertile farming area where the Chinese population of Port Townsend (that peaked in 1880 with around 450 people) grew abundant vegetables to eat and sell to the locals. After the Chinese Exclusion Act of 1882, Chinese Gardens was used to smuggle Chinese immigrants in from British Columbia.