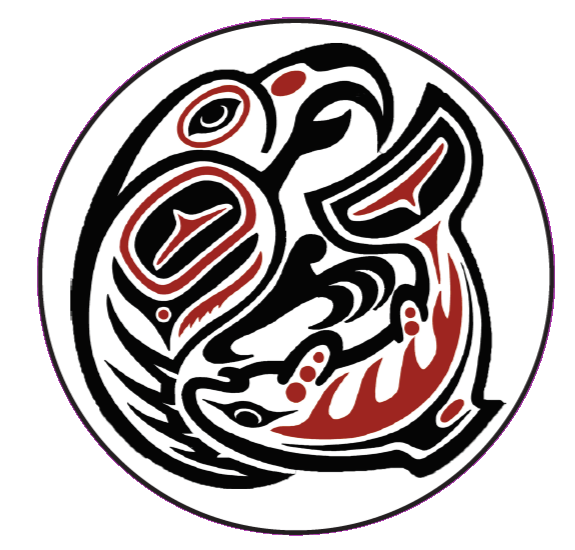 Gregory David Prince, direct descendant of čičməhán, conceived the official crest of the Jamestown S'Klallam Tribe. The crest is composed of two symbols that have endured with time as totems of the S'Klallam people.
The Eagle is free; he is strong; he is powerful; he is silent; he is one with the Earth. For the Jamestown people, he is the enduring vision of the past and the future.
The Salmon is life; he is continuance; he is perpetual adaptation; he is the pulse of the Earth.
If the Eagle and the Salmon disappear, the world will be a sadder place. A void will be opened that can never be filled. —Jamestown S'Klallam Tribe
Chetzemoka's Big Heart, a story by Mary Ann Lambert of the Jamestown S'Klallam Tribe's Lambert/ Reyes family (1879-1966, also the author of The 7 Brothers of the House of Ste-Tee-Thlum), illustrates Chetzemoka's heart, and the power and respect he commanded. Below is an abbreviated version of her story.
In 1856, a U.S. Army garrison was built at Fort Townsend to quell any uprising that might occur among the Indians in the Port Townsend vicinity. However, the soldiers were known to frequent the saloons of Port Townsend and overindulge. One day two drunken soldiers, realizing they had overstayed their leave, stole an Indian canoe from the S'Klallam village at Point Hudson, and subsequently drowned when a southeast squall arose across the bay.
Townspeople assumed that the soldiers had been killed by Indians, and when a youth named Tommy Shapkin found one of the soldier's bodies on the shoreline and donned his cap and jacket, he was accused of murder. He was jailed and a hanging scaffold was built. When the youth was brought to the platform, another S'Klallam youth ran to find Chetzemoka. Forcing his way through the dumbfounded crowd, Chetzemoka approached the scaffold. Without a word he mounted the steps and reaching into his belt the Duke of York withdrew a knife, reached up and cut the knotted noose and threw it upon the ground below. Then removing the blindfold from the boy's eyes, he said "Go, my kinsman. You are free!" Turning and facing the astonished crowd, Chetzemoka said (in Chinook), "Friends, this is Indian Country, our country. There never was a time when it was not our country. We are Klallams. Once we were strong, proud people. Because of sickness and death, we have diminished in numbers until now we are no longer a strong people. But we are a proud people. We will not be the first to spill Boston blood upon our beloved land. You Bostons are a strong people. Do you wish to be the first to spill Klallam blood upon this soil which once belonged to us? Have you no pride?" "Bostons," he continued, "We have been friends. Let us remain friends. If this unwise act which you were about to commit is what you call civilization, then give us back our way of life. Oh, White People, our brothers under the skin, do not let this happen again."